The Voice 8 – Live Blog and Recap – Live Top 10 Performances (VIDEO)
Welcome to the live blog and recap for The Voice 8, "Live Top 10 Performances"! Adam Levine, Blake Shelton, Pharrell Williams and Christina Aguilera take their teams into battle as America decides who advances!
But what will the finalists sing? Check out the song spoilers with iTunes links below:
Team Adam Levine
Joshua Davis, "Hold Back the River" by James Bay (iTunes)
Deanna Johnson, "Somebody To Love" by Jefferson Airplane (iTunes)
Team Pharrell Williams
Sawyer Fredericks, "Iris" by Goo Goo Dolls (iTunes)
Koryn Hawthorne, "Make It Rain" by Ed Sheeran (iTunes)
Team Christina Aguilera
India Carney, "Run To You" by Whitney Houston (iTunes)
Kimberly Nichole, "Something's Got a Hold On Me" by Etta James (iTunes)
Rob Taylor, "A Song For You" by Leon Russell (Donny Hathaway version) (iTunes)
Team Blake Shelton
Hannah Kirby, "Shout" by Tears For Fears (iTunes)
Meghan Linsey, "Home" by Marc Broussard (iTunes)
Corey Kent White, "Unwound" by George Strait (iTunes)
Keep it locked right here, as I'll be posting results, videos, commentary, and more as the night rolls on.
Let's get this show on the road!
RECAP
-We open by introducing the coaches and the mentors for tonight. Christina Aguilera has Mark Ronson, Scott Hendricks is helping out Blake Shelton, singer/songwriter/producer Dave Stewart is working with Adam Levine, and Ryan Tedder is teaming up with Pharrell Williams.
-We then get going with a live performance of the finalists performing a random Elton John medley, because even the non-competition songs have to be dated (and I say that as someone who loves Elton John music, but no show routinely has more boring song choices than The Voice). Joshua Davis, Deanna Johnson, Corey Kent White, Sawyer Fredericks, and India Carney sing "Rocket Man" by Elton John, while Koryn Hawthorne, Hannah Kirby, Rob Taylor, Meghan Linsey and Kimberly Nichole sing "Saturday Night's Alright for Fighting". It's okay, I guess. At the very least, it has none of the disastrous miscues or audio issues that plagued the group numbers last week. But when you need to kick off your two-hour show with filler that's this obvious, it might be time to kick it back to 60-minute episodes.
TEAM CHRISTINA AGUILERA: KIMBERLY NICHOLE opens the show!
-Kimberly gushes over Mark Ronson, praising his work on Christina's Back to Basics and Amy Winehouse's Back to Black. Christina has given her "Something's Got a Hold On Me," since Etta James is a goddess to her, and it makes her happy to pass the song on to the next generation. Kimberly has a bit of trouble in rehearsal without background singers, and so Christina backs her up herself. It's a great little moment, actually. See? When she's not showing off, Christina is a great coach!
-This isn't my favorite Kimberly vocal, but it's a really lively, electric performance. On the one hand, it sucks that Kimberly is being given the opening death spot. On the other hand, she really makes the most of it, delivering the sort of high-energy performance that should be easy to remember by the time the show ends. She's a consummate showman, and I think she's still one of the absolute powerhouses of this competition.
-Pharrell was on his feet practically the whole time, and he declares it "unbelievable". Adam says that the hardest thing to have on this show is momentum, and that she's been doing so amazingly well for so long that the conversations have to start getting serious about her winning this show. Christina feels that Kimberly gets more and more exciting with each week (she also notes that Kimberly looks amazing, and hey, no argument there. Anyone notice she has, like, supernaturally good teeth?).
WATCH AND DISCUSS: Kimberly Nichole sings 'Something's Got a Hold On Me' on The Voice 2015 Top 10 (VIDEO)
TEAM ADAM LEVINE: JOSHUA DAVIS is up next!
-Joshua says that working with Dave Stewart is a dream come true, and it wouldn't surprise me if this were actually unscripted, since Dave seems like the kind of guy who's probably know who Dave Stewart is. Joshua will be singing "Hold Back the River" by James Bay, and Dave immediately delivers stellar advice when noting that performing is all about dynamics, which is why Joshua has some trouble with the song, since he's so uncertain in his upper register. Basically, Joshua has to keep from holding back, and while that sounds like great advice, I admit that I'm not even sure what the "letting it all out" of Joshua Davis would even look like.
-I still love Joshua, but I really didn't like this very much. He's got a lot of talent, but I thought this was simply the wrong song choice for him. His voice was underneath the track for much of this, because this just isn't the kind of singer Joshua is. It's like Paul Simon singing a hard rock song. It just doesn't work, because he has a more folksy, storyteller's voice. Joshua is a great singer, but he's not a great power singer. I'll be voting for him to make sure he gets through the week. But, unfortunately, it won't be through iTunes.
-Blake tries to find a diplomatic way to say it wasn't up to Joshua's usual standard by saying the song pushed him to his limit. Ultimately, Blake is positive on the performance, however, and so is Pharrell. He feels this was a good exercise for America to see a different side of Joshua, which is kind of an annoying comment, if only because by Top 10, we should be past the point of testing things out for "exercise" purposes. Seriously, he could go home for this, and all because he was given a bad song choice to test his limits. It'd be a crime for us to lose him at this point, although part of me would understand why if we did. For his part, Adam feels that for as much as it might not have worked, this was still worth doing. Yeah…disagreeing with ya there, handsome.
WATCH AND DISCUSS: Joshua Davis sings 'Hold Back the River' on The Voice 2015 Top 10 (VIDEO)
TEAM BLAKE SHELTON: HANNAH KIRBY is up next!
-Hannah's parents are counselors, and this is somehow used as a justification for her choice of "Shout" by Tears For Fears. I hope she can prove me wrong, but hot damn, do I ever hate this song choice for her. Blake has a solid idea in bringing a military-type group onstage to echo Hannah for the chorus, and Hannah calls it "the coolest thing I've ever heard in my life." Meanwhile, Blake asks Scott how they can make the song "less 80s," which is the problem: you can't. This song is such a product of its time, that I can't see how Hannah can modernize it.
-I suppose I admired this more than I actually liked it. Hannah tackles everything she does with such gusto, and I thought the retinue behind her was an inspired idea by Blake. But Hannah sounded practically hoarse by the end of this, likely a result of having to outmuscle the band. I've liked Hannah for some time, and she's proven me wrong before. But this did absolutely nothing for me.
-Christina compares Hannah to Janet Jackson, and hey, I'm always down for being reminded of "Rhythm Nation". Pharrell loves how Hannah makes every song her own. Blake, meanwhile, declares Hannah a "freak of nature" in the best possible way, wondering how she can even stand there and talk to them after everything she just accomplished onstage. Hannah is quirky and likable, but I get the feeling that if she's safe, it'll have less to do with her performance here and more to do with a combination of her personality and who her coach is.
WATCH AND DISCUSS: Hannah Kirby sings 'Shout' on The Voice 2015 Top 10 (VIDEO)
TEAM BLAKE SHELTON: MEGHAN LINSEY is up next!
-Meghan gushes about what a big deal Scott Hendricks is, while Blake beams with pride that Meghan's version of "Girl Crush" charted higher than the Little Big Town original on iTunes last week. Meghan picked "Home" by Marc Broussard because it feels like it's written about her hometown, shouting out the Strawberry Festival, which sounds like a lot of fun, actually. Blake loves Meghan's Louisiana sound, but feels she needs to throw everything she has at this. Scott knows Meghan is capable of better, since he remembers her from the duo she'd once been a part of, although he notes that people who saw her before probably don't even know just how capable she is.
-This was Meghan's best rock vocal of the entire competition. I thought this was on fire, and she has a real shot at craking the Top 10 on iTunes again this week. I thought her vocals were on-point, and she worked the stage like a seasoned vet. Granted, she IS a seasoned vet, but she still deserves credit for nailing this so confidently. Meghan gets a standing ovation from all four coaches, and while I'm not sure I'd go that far, this WAS a fantastic performance.
-Christina absolutely loved it, and thought Meghan's vocals were crazy. Adam feels Marc Broussard is insanely underappreciated, so he's stoked Meghan did his song, especially since she did it so well. Blake then recalls a conversation he had with Meghan in which she simply felt her performance tonight was going to be good. And, lo and behold, it was. I thought Meghan was great here. You don't always have to reinvent the wheel with your song choices, you just have to do your style of song better than everyone else does theirs. If Meghan becomes the best country/rock singer in the competition (assuming she isn't already), she could be Blake's ticket to yet another victory.
WATCH AND DISCUSS: Meghan Linsey Brings Down the 'Home' on The Voice 2015 Top 10 (VIDEO)
TEAM PHARRELL WILLIAMS: KORYN HAWTHORNE is up next!
-Koryn is stoked to meet Ryan Tedder, since he wrote "Halo" by Beyonce, among other accomplishments she's in awe over. She'll be singing "Make It Rain" by Ed Sheeran, and she notes that the very first line reminds her of the father who wasn't there, and the mother who sacrificed everything so she could have opportunities like this. Koryn wipes away tears when talking about her mother, and how blessed she feels to have one like her. The rehearsal seems hardly like a rehearsal at all, as Ryan and Pharrell are so impressed by Koryn's voice that they have few notes beyond her phrasing. They help her bring out the story and soul of the song, and honestly, this could be my favorite Koryn performance, if the rehearsal is any indication.
-The closing notes of this song were DIVINITY. Seriously, this was Koryn's best performance in the competition, and one of the best vocals of the season, full-stop. She seems lost in the story and passion of the song, navigating each run with real precision. For a teenager (hell, for ANY age), this was downright stunning. She gets a well-deserved standing O from all four coaches, and the crowd goes absolutely nuts for her. In the process, she gets so emotional that Carson gives her a hug. This entire performance was wondrous, from front to back.
-Christina is sad that Koryn is not on her team, but notes she's always rooting for Koryn. Pharrell says Koryn has earned the title "Inspirational Singer," because this room is inspired right now, and America is inspired as well. "We all feel lifted. I want everyone in the Christian community, the Gospel community, anyone who needs any kind of inspiring, vote for this girl!" It's almost exactly what he said last week, but it's no less relevant now. If anything, it's more relevant now than it was then.
WATCH AND DISCUSS: Koryn Hawthorne sings 'Make It Rain' on The Voice 2015 Top 10 (VIDEO)
-Back from break with a cute moment, as Carson congratulates Blake on his job hosting the Academy of Country Music Awards last night, while Adam gets jealous of the blossoming bromance between Blake and Luke Bryan. This is possibly one of the only times I've enjoyed a Sprint Skybox segment.
Oh crap, the wifey is up next! Here's a rendition of me and Rickey any time Deanna walks into a room…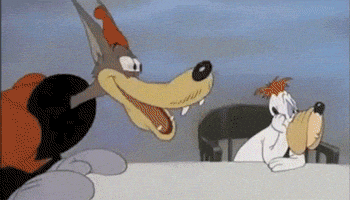 TEAM ADAM LEVINE: DEANNA JOHNSON is up next!
-Deanna remembers Dave Stewart from the Eurythmics, but I don't buy it. But then, that's neither here nor there. She'll be singing "Somebody To Love" by Jefferson Airplane, and Adam's idea is to do it in more of a Florence + The Machines style, which is actually a great idea for modernizing it. That said, I can't unhear the Cher comparisons in her voice. This isn't a bad thing, mind you, but I feel Deanna's voice is limited to certain kinds of songs, and I'm not convinced this is one of those songs. But then, I'm probably biased due to Joey Cook's version.
-Honestly, this is one of Deanna's most confident performances. She doesn't seem reticent or nervous up there, she seems like a seasoned professional. It's not her strongest from a vocal perspective, but I get the sense that when people vote for Deanna, they're not just voting for a voice, they're voting for an entire star package, from look to backstory and general attitude. She's talented, yes, but she has more going on in the X Factor department than some of her fellow contestants.
-Christina asks how that felt, and Deanna admits it was hard. Christina agrees, since there were a lot of long notes. However, she commends Deanna on pushing herself further, and notes how gorgeous she looks (I know, right? I wish people were that complimentary to me when throwing shade). Adam notes that it finally looks like Deanna is having fun. He's stoked that she's at the point where she can deliver a live vocal without losing her mind. It makes him proud to see how far she's come. And you know what? He's right about the progress she's made. Whether that's enough to keep her out of the Bottom 3 or not…eh. But she delivered far above expectations tonight. Well, my expectations, at least.
WATCH AND DISCUSS: Deanna Johnson sings 'Somebody To Love' on The Voice 2015 Top 10 (VIDEO)
TEAM CHRISTINA AGUILERA: ROB TAYLOR is up next!
-Rob talks about how he played piano since a young age, owing to his father, who is a very talented pianist. However, he gets emotional when recalling that his dad wasn't really around while he was growing up. They only reconnected recently, thanks to The Voice. Thus, he's even more grateful for this experience. Christina thinks Rob could knock "A Song For You" out of the ballpark, and she warns him not to over-rehearse or under-rehearse ("Just do it perfect!" she jokes). Mark gives some good notes about avoiding getting lost in the story and passion of the song, and how to keep those emotions in check to the song's benefit. I admit, I'm excited for this. Partially because this is one of my favorite songs ever, and also because Rob has jumped leaps and bounds over the past few weeks, in my book, becoming one of the real joys of this competition.
-I thought the performance was a bit too slow and measured, starting out. But what I love about this is that Rob wears his heart on his sleeve. Some might see it as a bit overdramatic, but it feels sincere in a way it doesn't always feel with other contestants. I could have done without the band kicking in the unnecessary percussion, but Rob silences my doubts with one of the craziest falsettos in Voice history. Seriously, dude is straight FIRE. He seems to struggle with his emotions towards the end, edging near theatricality, but it's still one of the best of the night overall. He's like if Little Richard were contemporary, cool, and just slightly more subdued.
-Pharrell is happy for Rob, saying he sang the song and expressed himself. He calls it "masterful," and notes that Rob did an "immaculate job." Christina says Rob opened up a new side of vulnerability he never showed before, laying his heart and soul out there on the stage while also playing the piano more beautifully than she knew he could. She's super proud of him, and yeah, she probably should be. This was outstanding.
WATCH AND DISCUSS: Rob Taylor sings 'A Song For You' on The Voice 2015 Top 10 (VIDEO)
TEAM BLAKE SHELTON: COREY KENT WHITE is up next!
-Corey loves beyond surrounded by fellow Okies. He'll be singing "Unwound" by George Strait, and it sounds alright, I guess. But Scott pinpoints exactly why it doesn't work: he can hear the energy in Corey's vocal, but he doesn't see it embodied in his movements onstage. I actually feel like he doesn't sound too energetic either, but Scott Hendricks would know better than I. Blake helps out by "putting his producer hat on," offering a sweet guitar lick that gives Corey a hook to hang his performance on. Scott then continues going overboard on The Voice love, once again reiterating (as he did in Meghan and Hannah's vignettes) that this show has the highest talent threshold of any show on television, bar none. I'm guessing the check cleared.
-I didn't really like this, although it wasn't for lack of trying. Corey did a solid job looking lively up there, and I do think he's still got a lot of potential that hasn't been fully realized yet. But this just didn't feel like a performance that gets him any farther than, at best, Top 8. There comes a point where consistency can hurt you, since there's no real sense of growth or difference in what he's doing. It also doesn't help that he flubs a lyric, although I'm not sure how many people are likely to have caught it. This was just okay, and to me, that means underwhelming.
-Adam calls Corey "Captain Consistency," noting that he's been at a certain level for much of the competition now, although I can't tell if he necessarily means this as a good thing or a bad thing. Of course, no sooner do I note the lyric flub than Blake immediately addresses it, stating that Corey absolutely did not get away with it. He says that country music fans know that song inside and out, so they certainly caught it. Corey is humble and recognizes his flub, and I think that likability goes a long way. But I'm not sure if it goes Top 6 far, not if he really has piqued. But it wouldn't surprise me to see it take him Top 8 far.
WATCH AND DISCUSS: Corey Kent White sings 'Unwound' on The Voice 2015 Top 10 (VIDEO)
TEAM PHARRELL WILLIAMS: SAWYER FREDERICKS is up next!
-Pharrell and Ryan Tedder congratulate Sawyer on his iTunes success last week, and they note just how hard it is to debut a song on iTunes one night and have it topping the charts by the next morning. Sawyer will be singing "Iris" by Goo Goo Dolls, and that gets Ryan excited, since this is one of the songs that made him want to start a band. They go over methods of rearranging the song for 2015, and Sawyer is thinking perhaps going with a toned down chorus. Ryan and Pharrell seem as impressed with his artistry as they are with his voice. "He's good," Pharrell says, as if trying to hide his glee at having this entire competition in the bag (barring some wild mishap).
-I was impressed by the amount of feeling Sawyer injected into this, considering he mentions in his VT that he's never felt the deep love depicted in this song. I think he's delivered better vocals than this, but there's a certain raw sincerity to it that makes this sound like exactly the kind of song a heartbroken teenager would write to his first love. It has all the grandiose, world-ending feeling of teenage heartbreak, where everyone is the star of his or her own movie, and every romance is the most epic of romances because it's yours. Loved this.
-Blake feels like Sawyer has a natural "fader" to his voice, switching from softness to loudness with ease. Christina loved Ryan's collaboration with Sawyer, and says she isn't sure what else to say, since he already picked Pharrell. Pharrell, for his part, says the world needs more artists like Sawyer, and notes that the entire room felt his emotion. I feel like this is one of those performances that's going to diminish a bit on subsequent viewings, but right now, it's just plain lovely.
WATCH AND DISCUSS: Sawyer Fredericks Stuns With Passionate 'Iris' on The Voice 2015 Top 10 (VIDEO)
TEAM CHRISTINA AGUILERA: INDIA CARNEY closes the show!
-India is bowled over to meet Mark Ronson, but she's somewhat intimidated by the song choice. Christina has given her "Run To You" by Whitney Houston, and she's nervous because of her history with the song: India auditioned for The Lion King on Broadway, and she used this song as her audition piece. It backfired, so India generally tries to avoid Whitney songs — particularly this one. But Christina feels this is all the more reason to tackle it, eventually stating that there will be nothing else up there but India, a mic, and a stage.
-This is a rare performance where the beginning and the end were iffy, but the middle was stellar. Seriously, if this had been nothing but the mid-point of the song, where she utilizes her insane vocal power and delivers some of her best ad libs of the competition, this would have been best of the night. But her falsetto is just so thin and papery here, and she seems like she lacks confidence here, perhaps owing to that Broadway audition. It wasn't bad, but it just wasn't up to India's usual standards. Still, I don't expect her to be in danger tomorrow, if only because 1) she went last, and 2) those better performances of hers should still be fresh in America's heads. She's a damn good singer, after all.
-We rush through the final coaches' comments, as Adam declares that those Broadway producers are absolute idiots for not hiring her for The Lion King, while Christina praises India for being as amazing as she is. She says India has finally conquered this song, and…I mean, I really wouldn't go that far. But hey, India is still one of the best singers left.
WATCH AND DISCUSS: India Carney Takes On Whitney With 'Run To You' on The Voice 2015 Top 10 (VIDEO)
-And that's a wrap! So which two artists will go home tomorrow night? Vote in our poll and add your predictions!
But first, what did you think of tonight's show overall? Which artists were the highlights and the lowlights? Sound off in the comments! Until tomorrow night's results show, thanks for reading and hanging out!
GOODNIGHT!
Reality TV
live blog
Recap
The Voice
Video