"The Voice" contestant Anthony Riley has died. He was 28.
Anthony made headlines this season when he missed the Knockout Rounds after achieving the fastest four chair turn in the show's history. He sang "Feeling Good" during the auditions.
It was later revealed that Anthony went to rehab at NBC's expense.
No details yet on his passing, but friends on social media have confirmed the news. It was first reported today by Anthony's best friend and collaborator Roberto Man.
Here are screencaps from social media: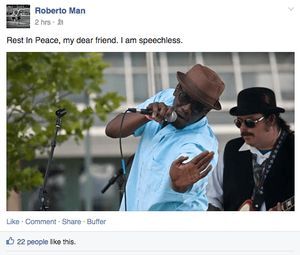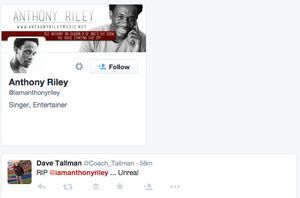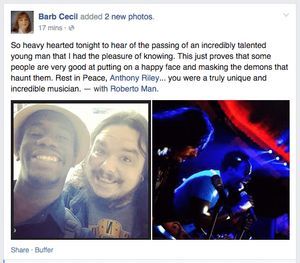 Updates
Anthony Riley Committed Suicide
From Philly.com:
Anthony Riley, 28, a Philadelphia street performer who left NBC's singing-competition show The Voice in January to deal with substance abuse issues, died Friday.

Over the last decade, Riley had been a fixture in Center City Philadelphia, crooning Motown and pop songs for tips on the bustling streets outside Reading Terminal, Penn's Landing, and Independence Hall.

Since leaving the TV show, he had been working on an album but continued to struggle with addiction, his friends and family said Saturday.

Riley took his life, and was found Friday in the basement of the Center City apartment where he was staying, said Tootsie Iovine, a co-owner of the Iovine Bros. produce store in Reading Terminal who said she was like "a second mother" to Riley.
Anthony Riley Left 'The Voice' To Go To Drug Rehab
From Philly.com:
Riley is opening up about the problems that have plagued him. The 28-year-old said he struggled with drug addiction for two years, but since leaving The Voice has completed a rehabilitation program. "For me it's tough, because everyone's just finding out and I've been moving forward" past my departure, he said from Pittsburgh.

Riley sat down with The Voice's production staff in January after his first Battle Round victory and shared his ongoing struggle with substance abuse. That night, NBC producers flew him out from Los Angeles, where The Voice is shot, back to Philadelphia so he could enter Clarity Way, a drug and alcohol rehab facility in Hanover, Pa.

Riley said NBC footed the bill. NBC did not return a request for comment.

"The Voice has been a really great source of support," Riley said. "At the time, [being on the show] wasn't working for me and I felt like I needed to go, instead of taking on more responsibility than I could handle."
Anthony Riley Audition on 'The Voice'
Gone too soon! Sending positive thoughts to his friends, family and fans.
News ·
#Death