The X Factor UK – Winner – Results – 12/15/2013
The X Factor UK results, recap and live blog for December 15, 2013. Which act will be declared the winner of The X Factor UK 2013?
It all comes down to this! Who will it be? Sam Bailey or Nicholas McDonald? Add your predictions to the comments as we get this show on the road!
(Updates throughout the show)
It's FINAL time… #xfactor pic.twitter.com/uChuvIWHYm

— The X Factor (@TheXFactor) December 15, 2013
Recap
-We kick things off hyping up what's to come, with One Direction, The X Factor finalists, Gary Barlow performing with Elton John, and tons of more! I'm BESIDE MYSELF right now with excitement! (X-citement? Or is that too corny? Not to say that I'm not already kind of a corny person, but I don't want to be high fructose about it or anything)
-Dermot comes out to an instrumental version of "Live and Let Die," and I've always loved the running gag of equating Dermot to James Bond. I may get in a bit of trouble for this, but I think Dermot smokes the hosts we have over here. Seacrest included.
-The judges are introduced, and we get to the important part: LINES ARE STILL OPEN! So vote vote vote! Of course, I'm Team Nicky Blue, but I have absolutely NO PROBLEM whatsoever with Sam Bailey winning this thing. How that woman needed to go through this show to be discovered in the first place blows my mind.
The X Factor Finalists sing "Roar" by Katy Perry: Maybe it's oversaturation, but if I never hear this song again, it'll be too damn soon. With that said, the finalists sound fantastic, although Sam Callahan still sticks out like a sore thumb. Likable kid, but still out of his depth a bit. But then, it's not like this is a competitive performance, and it looked like everyone was having fun, so no arguments here.
Recap of the Finals performances with backstage comments: Nicholas is thrilled with how his performance of "Candy" turned out, and says he just had "so much" fun. Sam is similarly over-the-moon with her performance of "Edge of Glory" with Gary adding backstage that she smashed it. As for the duets, Shane Filan talks about how amazing Nicholas is for just 17 years old. Nicole is also proud of Sam and calls their performance "badass," while Sam hopes she's done enough to win. I'd argue she has. But if she doesn't win, she has absolutely nothing to be ashamed of — nor does Nicole, for that matter. I had no idea she could do THAT.
Dermot hypes that One Direction is coming up! Are you ready for the boys?
One Direction performs "Midnight Memories": Man, this album really is so different from the output of just about any boy band I've ever seen. This is a track I'd expect from a pop-rock band like Fall Out Boy or something, yet it's coming from One Direction. Between arena rock anthems like this and the vaguely Mumford & Sons-esque "Story of My Life", this is a really interesting direction (no pun intended) for the group to take.
As for the performance itself, the guys look like they're having more fun with this performance than most live TV performances they've given in weeks, although they still seem a touch annoyed to be there, much like with SNL and The X Factor USA. Maybe they're just a bit burned out? Dermot talks to the boys after the performance and mentions how they've worked pretty much non-stop for three years. Liam then jokes about how they're all sick of each other, prompting all five to bust out laughing. There's such a weird disconnect between how upbeat and jovial they are in interviews, and how peculiarly stiff they seem onstage. I hope there isn't any backstage turmoil.
How SHA-MAZING was that? @Onedirection #Xfactor pic.twitter.com/0rrEBik7pJ

— The X Factor (@TheXFactor) December 15, 2013
-Dermot talks to the judges about last night's highlights, and Sharon and Gary give props to Nicole and Sam's performance. Nicole talks about what a great time she had and how she's going to miss her X Factor family (is this her last season, or is she just talking about missing the other three judges, all of whom are leaving?). We now head into final performances, as Louis introduces Nicholas McDonald, who will sing his favorite performance of the season…
Nicholas McDonald sings "Angel": Loved this performance, although I wish he'd have chosen "She's the One." That really just set the bar so high for him in the competition, and established him as a force to be reckoned with. But as he explained in the VT, this is his mother's favorite song, and one of his milestone moments in the competition, as his confidence had grown and grown, with this song being something of a culmination for his abilities. This really was an epic performance, particularly with the inclusion of the live orchestra and the 10,000 fans in attendance. Just a fantastic version of a song that should have been a total sleeper, given how often it's performed on shows like this.
-Sharon agrees with Nicholas's mother, saying that it's one of her favorite songs. Gary doesn't know if Nicholas has done enough to win, but he certainly would be a worthy winner after a performance like that. Nicole says Nicholas is like "an angel with butter wings" (whatever the living hell that means) and states she can't wait to buy the single off of iTunes and curl up with it for the holidays. Louis adds that he's loved working with Nicholas and watching the boy become a man. Nicholas is equal parts excited and humble to have made it here, and I can't help but root for him.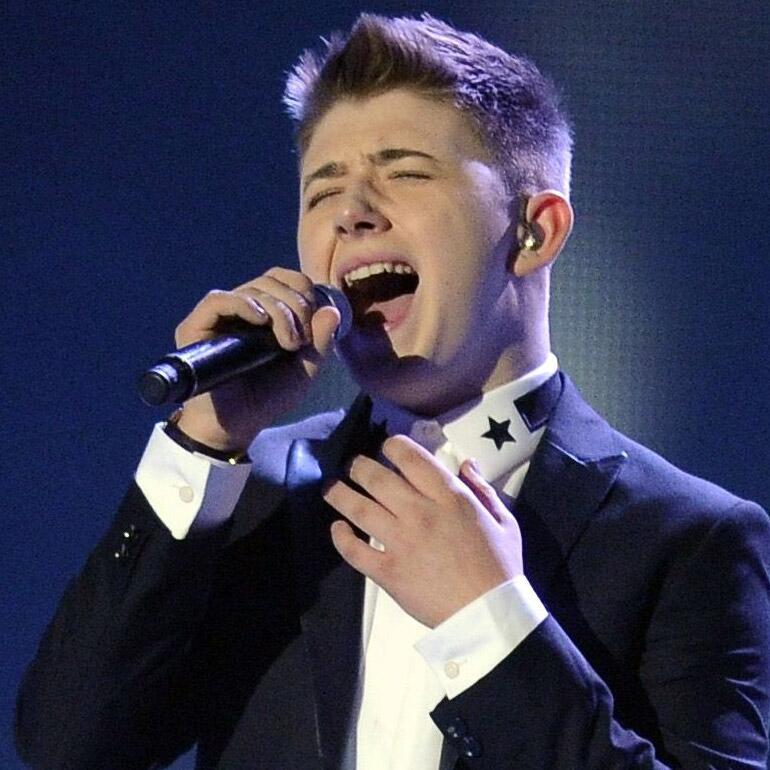 -Back from break with Dermot pointing out Louis' "scandalous" vote-campaigning, as he's wearing plaid trousers in representation of Nicholas' Scottish heritage. They then point out the McDonald clan in the audience. But now, it's time for our next finalists to sing HER song of the series…
Sam Bailey sings "The Power of Love": As she explains in the VT, this was the song where the realization first sunk in for Sam that she had made it to the live shows. Much like with Nicholas, this song holds special meaning to her mother, as Sam's mum used to sing it to her and pretend she was Jennifer Rush. It's a very sweet backstory, and it's easy to forget just how humble Sam's beginnings were. Of course, she follows up the touching vignette with a powerful vocal, one of her absolute best of the series. The crowd is absolutely MOLTEN after that performance. The judges give her a standing ovation.
-Gary says that Sam could have sung anything and turned in an amazing vocal. He hopes that no one at home assumes she's won, and that they vote for her. Nicole says Sam was put on this Earth for two reasons, to be "a sha-mazing mom" and to sing. She calls Sam an inspiration to women everywhere, a sentiment echoed by Louis Walsh. Sharon says she'll love and respect Sam as her friend forever, and pleads with viewers to keep voting. For her part, Sam loves performing and wishes she could set up a tent and live on the stage. She thanks her fans for their support, and Dermot offers up the phone numbers for both finalists. This is going to be really tough to pick. They both deserve it so much.
The Best of The X Factor judges: The video fawns over the judging panel, with Sharon calling it the best ever, and Louis exclaiming his excitement over this entirely new judging panel, which ignores that the only new addition from last season is Sharon Osborne. The judges talk about their moments of the season, with Louis emotionally talking about Melanie McCabe (I'm still sore about that one), Nicole recalling how the yodeler brought her to life, and all the judges discussing how close they've all become. Gary says he'll be sad when it's all over, but it's been amazing and he's had so much fun. It's a cute video, if nothing else.
X Factor 2013 – X Factor Live Shows, Week 10, The Judges' Best Bits on MUZU.TV.
Dermot asks the crowd to give it up for Gary Barlow, whose X Factor run is coming to an end after three years. He asks Gary what his highlight is after three years, and he says "Tonight". He adds, "I love this show, and I've loved being on this panel." Dermot then hypes the coming arrival of all 5'7″ of Katy Perry, and all I could think was, "MAN, I had no idea she was so short! Still taller than Seacrest though."
Katy Perry performs "Unconditionally": I like the song, although it's weird to have such a cumbersome word to serve as the chorus. With that said, Katy is painfully out of tune for most of this. Perhaps it's an issue with her earpiece, because this is very uncharacteristic of her. And the vocal is still good from a pure tone perspective — she's just in the wrong key. She rights herself by the end of it, for the most part, so that's a plus. And the production itself is terrific, with crazy winged people and dancers that look straight out of a True Blood's faerie world.
She was rather good wasn't she?! #XFactor #KatyPerry pic.twitter.com/kZia35EF9p

— The X Factor (@TheXFactor) December 15, 2013
-Katy talks about launching her world tour in the UK, and Dermot sings a bit of "Roar" and replaces it with "tour," in a cute little moment. "I've been working on that all day."
-Dermot interviews the finalists, and Nicholas and Sam are both nervous…and barely audible. Either they're talking too softly, or their mics are too low. Dermot throws to commercial AND OH MY GOD, IT'S THE JOHN LEWIS CHRISTMAS AD with Lily Allen's "Somewhere Only We Know"! You can't do this to me! I don't have tissues ready! Ugh, too late. Already tearing up. Every time, I swear.
-WINNER'S SINGLE TIME!
Nicholas McDonald sings "Superman" by Five For Fighting: OH MY GOD, I LOVE THIS SONG! (I'm possibly one of only seven people who do) In his VT, Nicholas says he still can't believe he's here. He never really believed in himself, and never thought he had a chance. From first audition to boot camp through judges' houses, he just didn't think he would ever make it. But he's incredibly thankful, and talks about how his life has completely changed, and how heartening it is to have the support of his family.
Love this song choice for Nicholas, as it fits his voice like a glove. It's not really a "moment" song like a ballad would be, but the arrangement really makes it soar. Seriously, I ADORE this arrangement. And Nicholas brings real passion to it, to beat. I could easily see this being a huge winner's single for him. He ends the performance with a "love you" to the crowd, and blowing them all a kiss. The judges give him a standing ovation, except for stick-in-the-mud Gary.
-Sharon loved the performance, while Gary talks about what a great competition Nicholas has had, saying he's gained tons of experience. He tells him to take that experience and move forward, which seems to suggest that Gary doesn't think Nicholas will win. (Given how Sam has been performing, I can't really blame him, although I wish he didn't sound quite so dismissive about his chances) Nicole says she can't wait to buy Nicholas's album, while Louis says this is the last chance to vote for Nicholas, and he hopes the viewers do so.
-We get an interview with Nicholas's mum, who tearfully talks about how proud she is of her son, who's done so much at only 17 years of age. "Love you so much, Nicholas." (Awwwww) Dermot asks Nicholas about his family, and he says if it weren't for his mom and dad, he wouldn't be here. Dermot throws to a video package of Nicholas's family and friends wishing him the best. It's an incredibly touching little video package that words can't really do justice to.
Sam Bailey sings "Skyscraper" by Demi Lovato: Much like with Nicholas, Sam's VT details how she didn't really think she could make it. She decided to audition in the first place because she felt this was her last chance. "I don't look like a pop star," she says, and talks about how she fell into a comfortable little niche in her life, but states how she's wanted to achieve this dream since her teen years. Sam feels now that she's finally achieving the dream she's longed for all these years.
As for the performance itself, this song is fast approaching "overdone" status on these shows, but it's hard to deny its power when someone like Sam Bailey gets a hold of it. What's great about Sam is that while she has the powerful, booming range, she can also do the meeker, vulnerable notes with similar precision. Save for a segment towards the end where the vocal gets away from her and it becomes shrieky, this is a pretty moving vocal, and would be a towering winner's single for her.
-Gary loved the performance, while Nicole is in tears and declares that now is Sam's time. Louis says Sam deserves to be on that stage, and predicts that will be a No. 1 record. Sharon can't actually speak because she can't bring herself to stop crying. Seriously, I don't think I've ever seen a judge on one of these shows cry so hard. Sharon just can't be soothed. It's kind of beautiful how moved she is, actually.
-We then get interviews with Sam's family in the crowd, and I feel it incumbent upon myself to mention just how gorgeous Sam looks here. Just throwing that out there. Dermot then throws to a video package of well-wishes from Sam's family and friends. Just a lovely video. Sam thanks everyone for their support, and says she looks forward to watching football matches on Tuesday again.
-We get a recap of all the performances and the numbers for each finalist, and I'm not sure how it's possible for Sam to lose this thing after this resume of performances. As much as I love him, I'd argue the only round Nicky actually won was the winner's single. I guess we'll see in twenty minutes. Lines are closing soon!
Lines closing soon! #xfactor pic.twitter.com/pLEvNkRteS

— The X Factor (@TheXFactor) December 15, 2013
-Time for our final guest performance of the night…
Gary Barlow and Elton John perform "Face To Face": This is Gary's new single, but what's amusing is that this sounds like it easily could have been an Elton John track from the 70s. And they both sound fantastic. Seriously. The crowd is also going crazy for it. Gary discusses what it's like working with his hero, while Sir Elton talks about how much fun the show is, and adds that the two finalists are incredible, humble people and are incredible singers. He says he did the performance because he's been friends with Gary for twenty years, and he loves him. Well that's adorable.
Closing the guest performances in style… #XFactor pic.twitter.com/PDFTNK8Mre

— The X Factor (@TheXFactor) December 15, 2013
-And now, we've come to the end. LINES ARE NOW CLOSED! Who has won The X Factor UK 2013?! We get some final words from supporters of both Nicholas and Sam in the audience. And it's time for the big moment!
Winner Results
-Dermot welcomes back Nicholas and Sam, along with their judges, Louis and Sharon. It's time to reveal the winner of The X Factor UK 2013!
SAM BAILEY wins The X Factor UK 2013!
Download: Skyscraper
-Sam can't believe she's won, and breaks down and says she loves "that boy, Nicky McDonald" and says he has to get an album out right now because she loves him to death. Nicholas takes the loss in stride and says if he had to lose, he was happy it was to Sam. He gives his thanks to absolutely everyone. And now it's time for the coronation performance from the winner of The X Factor UK 2013, Sam Bailey.
Sam Bailey sings her winner's single, "Skyscraper": What's funny is that while the first performance was great, this was even better than the first time she sang it. And back then, she wasn't overcome with emotion like she was here. And here comes my favorite part, when the other finalists rush the stage and hug the winner towards the end of their performance. Fantastic performance from an absolutely wonderful winner.
So to recap, the winner of The X Factor UK 2013 is SAM BAILEY! Do you agree with the result? And where does Sam rank among X Factor UK winners? Sound off in the comments! Thanks for joining me tonight, and for this season! It's been a blast!
Goodnight
The Latest on The X Factor UK
All posts on The X Factor UK
The X Factor, Top Story
live blog
Recap
The X Factor UK
Winner Results
Got Something to Add?