Constantine Maroulis – Jekyll and Hyde Tour – Preview
There is a new touring company winding across the country, with just seven more dates before the show makes a home on Broadway for a limited summer engagement. The show features former American Idol and Tony Nominated singer/actor Constantine Maroulis as the title character, and R&B singer Deborah Cox as his leading lady. Maroulis had his run on season 4 of American Idol, and has since made a name for himself on Broadway, with a noted replacement role in 'The Wedding Singer' before creating his role in the highly-touted music 'Rock of Ages', which earned Constantine a Tony nomination. Cox has used her gorgeous voice to top both the Billboard Hot R&B as well as the Hot Dance Billboard charts. She has also scored well on the Pop chart, geting to #2 on the Billboard Hot 100.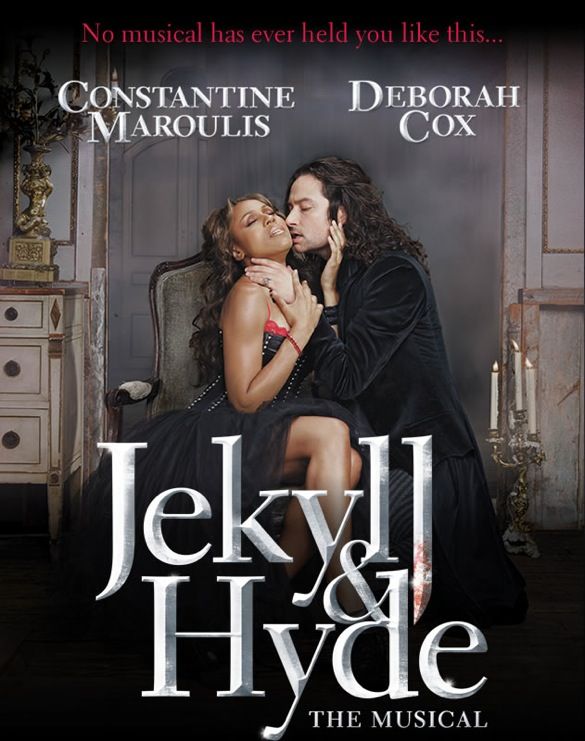 The show is based on the original short story by the great Robert Louis Stevenson. It has made it to film on more than one occasion In fact, there have been well over 120 movies, and countless stage adaptations. The tour is currently in Oklahoma City, Oklahoma, with stops in Tulsa, OK, Denver, Colorado, Los Angeles, California, Des Moines, Iowa, Chicago, Illinois, and West Palm Beach, Florida, before starting a run at the Richard Rogers Theatre. They are scheduled to be on Broadway in a limited engagement from April 5, 2013 – August 24, 2013. Here is a collection of clips of the highlights for the tour.
The show provides the opportunity for a strong voice to give tour-de-force performances, with several songs written to stop the show. One such song is the most famous from the show, "This Is The Moment". Like the rest of score, it has music by Frank Wildhorn and lyrics by Wildhorn, Leslie Bricusse, and Steve Cuden. This is a recording made last year featuring the vocals of Constantine.
Certainly the male lead is not the only one with the chance to shine. In the role of Lucy, Deborah Cox has some beautiful songs, including the lovely "In His Eyes". Lucy is the classic working-girl-with-a-heart-of-gold, as well as the featured performer at The Red Rat, a night club in London.
To learn more about 'Jekyll & Hyde', visit their official website. There you can get the dates the show is playing, and purchase tickets. For more about Constantine Maroulis, visit his official website. You can also check out Deborah Cox on Facebook.
Theater
Constantine Maroulis
Deborah Cox
Jekyll & Hyde
National Tour
Got Something to Add?
no one can top Linda Eder in this musical,, she was absolutely brilliant..

He was always best on Idol when he wasn't pretending to be something he clearly never will be. I know that he had rock n roll dreams, but dreams don't always come true. (Remember the song that got him ejected from AI? Nickelback's "How You Remind Me."). Rock-opera/Broadway is his forte, much like this show and "Rock Of Ages," where he was nominated for a Tony Award.

(The guy's a douche, though. When I was writing my Report Card for Yahoo, I had to work with him on the post-show internet coverage. He was unbearable.)

Loved this show!  Saw it in Philly and hope I can get tix to see it in NYC!
Took the whole family to see them in Houston.  Excellent show!  I wish him great success with this show
The singing is fabulous! Maybe there might be another Tony nomination or two out of this production? Constantine is awesome.
I will admit this though...their rendition of "In His Eyes" was pretty damn good! I looooove that song, especially the last minute, mmmm.
Dude can't sing at all, even Hasselhoff was a better Jekyll/Hyde, ugh. I don't get why Constantine keeps getting work...he ruins every show he's in and he's so douchy!
Wow, CON sounds so good here! He is so meant for Broadway!
@Mikhail XO He was actually one of my favorites during his season ...except when he tried to be a "rocker." He ever so clearly wasn't, isn't, and never will be.

@Mikhail XO Thanks, Mikhail! I agree, the recording is both impressive and shows Con has found a perfect place to work. And there are others who might find inspiration in that.
@JustinBrooks  I don't like Constantine at all, I think his attitude is terrible... but to say he can't sing really isn't true.